Washburn Welcomes Seven AFS Students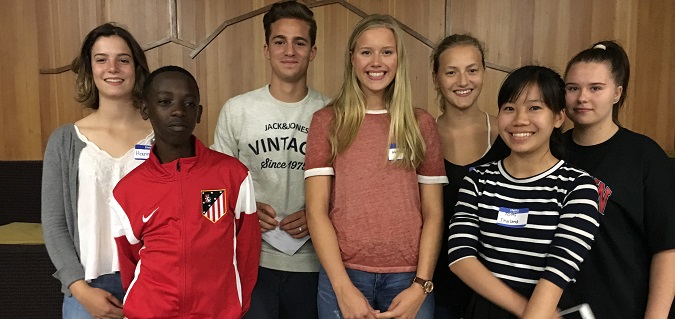 Seven families in the Washburn School district have opened their homes and hearts to seven AFS students. These students bring their culture and experiences to students in the district while developing life-long friendships. Please contact their families if you would like to get to know more about these students.
Front: L to R: Godwin Ashiruma from Kenya, staying with Lea Rolfsen and Michael McKenna; Hedda Taknes from Norway, staying with Jennifer Maziasz and Ryan Mulhern and family; Patcharee "Tong" Prajakrattanakul from Thailand, staying with the Wendy Shields family; Back: Hannah Lengauer from Austria staying with the Rosanne and Jon Haveri family; Joele Alberto from Italy staying with the Mary and Ted Dougherty family; Anna Oleszewski from Germany, staying with the Colleen Matula family; and Ida Leivo from Finland staying with the Joe and Christine See family.
The AFS organization is fortunate to have such a welcoming community for these students.
Wisconsin School Board Appreciation Week
October 2 - 8, 2016
The Wisconsin Association of School Boards has set Oct. 2-8 as Wisconsin School Board Appreciation Week as a time to build awareness and understanding of the vital function an elected board of education plays in our communities. The Washburn School District is joining all public school districts across the state to celebrate Wisconsin School Board Appreciation Week to honor local board members for their commitment to Washburn and its children.
"It takes strong schools to build a strong community, and these men and women devote countless hours to making sure our schools are helping every child learn at a higher level," Wiatr said. "They make the tough decisions every month and spend many hours studying education issues and regulations in order to provide the kind of accountability our citizens expect."
Wiatr said the key work of school boards is to raise student achievement by:
• Creating a vision for what the community wants the school district to be and for making student achievement the top priority;
• Establishing standards for what students will be expected to learn and be able to do;
• Ensuring progress is measured to be sure the district's goals are achieved and students are learning at expected levels;
• Being accountable for their decisions and actions by continually tracking and reporting results;
• Creating a safe, orderly climate where students can learn and teachers can teach;
• Forming partnerships with others in the community to solve common problems; and
• Focusing attention on the need for continuous improvement by questioning, refining and revising issues related to student achievement.
"School board members give the Washburn citizens a voice in education decision making. Even though we make a special effort to show our appreciation in October, their contribution is a year-round commitment."
The members serving the Washburn School District are as follows: President Christina Sauer, Vice President Roxanne Shuga, Treasurer Colleen Geisen, Board Clerk Richard Avol and Board Member JoAnne Katzmarek.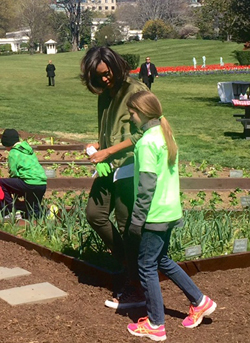 First Lady Michelle Obama Harvested White House Kitchen Garden with Washburn Students
Monday, June 6th

The White House * 11:10AM ET - First Lady Michelle Obama welcomed students from across the country to harvest the White House Kitchen Garden and prepare a fresh, healthy meal with ingredients straight from the garden. Mrs. Obama was joined by Author, Daytime Host and Child Nutrition Advocate, Rachael Ray, who is also a member of the President's Council on Fitness, Sports & Nutrition, and Tastemade's, Frankie Celenza. In 2009, Mrs. Obama planted a vegetable garden on the South Lawn to initiate a national conversation around the health and wellbeing of our nation-a conversation that evolved into her Let's Move! http:/www.letsmove.gov/ initiative.
FULL STORY
Our mission is to enable students to enter the global society with the knowledge, skills, habits, and attitudes required to be contributing citizens.
Washburn High School Recognized as a 2015 National
Blue Ribbon School!
(click here for more info.)
----------------------------------------
OPEN ENROLLMENT INFORMATION
The open enrollment option is still available for students to enroll in the Washburn Public Schools. The best way to apply is online (a link to the online application is at the top of this page during the application period). Additional information on the regular open enrollment application season can be found on our applications page
LINKS:
DPI Open Enrollment Information
Application for Open Enrollment
Alternative Open Enrollment Application
(after April 29th)
Open Enrollment DPI Brochure (pdf)
WITC Promises FREE Tuition for area High School Graduates
The WITC Promise Scholarship will pay the balance of tuition and fees for eligible students after federal and state grants are applied. Tuition will be covered up to four terms (pending eligibility requirements each term).
"The WITC Foundation Board is pleased to support and fund this important college initiative. We know the college's graduates are in high demand and the WITC Promise will give the opportunity to more individuals to attend WITC who otherwise might not have been able to afford to enroll," said Charlie Singler, WITC Foundation Board President. (Link here for the flyer)
Food Service Notice for Free/Reduced Lunches for 2015-16 School Year

Child Find Public Notice
Homeless Information
Other Public Notices
Washburn Public School Board Members:
Christina Sauer - Board President ~ csauer@washburn.k12.wi.us
Roxanne Shuga- Vice President ~ roxanne.shuga@washburn.k12.wi.us
Richard Avol - Clerk ~ peruse@chequamegonbooks.com
Colleen Geisen- Treasurer ~ cgeisen@washburn.k12.wi.us
JoAnne Katzmarek- Board Member at Large
~ jkatzmarek@washburn.k12.wi.us
To mail all the school board members use schoolboard@washburn.k12.wi.us